Event Reports and Updates
Christmas Fair 4 December 2015
What a wonderful Christmas Fair! We were delighted to see so many people enjoying themselves there, and such busy stalls. Thank you to all the shoppers; your purchases support some wonderful activities and enrichments for the children of Higher Lane.
We have been in touch with all the lucky raffle prize winners, including anyone who wasn't at the fair when they were drawn. We are hugely grateful to all the companies who kindly donated such generous prizes, and helped make this a really covetable raffle.
Raffle Prizes and winners for PTA Christmas Fair 2015
Nest thermostat, stand & a nest protect alarm (co/smoke) - CARRIE WOOTOON

George Clooney - Nespresso coffee machine - VAIDEHI

Microwave - PAULA TOBIAS

4 comp tickets for Lego Land - HEIDI SHELDON

4 comp tickets for Sea Life - SARAH GREEN

Family Bowling package AMF - JEFFERSON MORTON

Cut & Blow @ Hair NV - SUE SMITH

Shellac polish @ Hair NV - ZOE SERRANT

SK - Nails - Beauty £15 voucher for eyebrow/top lip threading) - KATH

Benchmark Photo Shoot - KIM WILLIAMS

Smithills Farm voucher for family of 4 - B.SANT

Salon Unique £30 Voucher - R.SMALLBONE

Croma Voucher (2 mains & carafe of wine) - J. COOPER

Gym membership - Dynamics - BECKY HALL

Dance studio 1 (10 free lessons) - KIM WILLIAMS

Free Mini Service / Winter Check @ Parkside Garage worth £75 - JONATHAN HAINSWORTH

The White Rooms - Voucher - JANE RICHARDSON

Laser Quest 2 x Vouchers - LUCA

The Orange Tree - Voucher - MRS CARRINGTON (THEO YR1)

Christmas cake & Champagne - ANDREA SCHOFIELD Congratulations all!
The name of the giant polar bear was SPARKLE. Congratulations to Harriett in 1B who correctly guessed this.
Another huge thank you to all the volunteers who helped behind the scenes, and during the fair. Without you, we can't run such fun and successful fairs and events. These raise money to fund a variety of enhancements to Higher Lane, and the more volunteers we have, the more successful the event, the more money we raise, the more, or bigger, projects we can fund. We couldn't do it without you. Thank you!
Thank you to everyone who brought from the refreshment stall at the shows this week, and thank you to the volunteers running it. A big thank you of course to all the children and staff who provided such wonderful entertainment.
Halloween Disco - 21 October 2015
Halloween came slightly early to Higher Lane, with the Halloween Parties on Wednesday 21St October. There were some wonderful costumes and creative face paint, and it is definitely worth having a look at our Facebook page and the school Twitter account (@higher_lane) to see some of the photographs of the night.
The evening opened with the EYFS and KS1 party, and there was some fantastic dancing, haunting, and roaring taking place. There were fun games, including pass the parcel, as well as the disco. After some snacks and a drink, it was time for our younger guests to depart with a treat.
The KS2 revellers were also great dancers, and had the opportunity to visit the Halloween marketplace for a break. There were stalls selling food, drink, sweets, and novelties, and the stallholders were kept busy all night.
All the guests were very well behaved, and a credit to themselves, parents, and school.
We would like to say a huge thank you to everyone who helped behind the scenes, and on the night, to make this a successful event.
Fashion Show - 24 September 2015
We wanted to start the new school year with a big event, and they don't get much bigger than sold out!
The doors opened at 7pm, but the evening started earlier for our volunteers, the stall holders, and the Show team, all setting up.
We had a lovely range of stalls to tempt ticket holders with; cakes, jewellery, marshmallows, Aloe Vera products, bags, bows, and our own small bar.
At 7:30pm, the compère introduced the models and his runner, and it began! The show started with the drawing of four lucky entrance tickets; congratulations to the winners of the £25.00 vouchers to spend during that evening's show.
The models wore the clothes being sold, and, whilst the compère gave information about the garment, they walked round the audience, giving them a chance to see the clothes close up, feel the fabric, and ask any wash and wear questions.
Once the price was given, hands went up, and the runner took payment and supplied the item purchased.
It was very quick moving and entertaining.
At the end of the show, the raffle was drawn. We would like to say a huge thank you to the wonderful stallholders; Quirky Notions, Forever Living, Pink Butterfly Boutique, Squidge Marshmallows, Evie-Bells, and the Jades Jewellery stall, who all very generously donated a prize. A special thank you to Julie's Ironing Service, who didn't have a stall, but very kindly donated vouchers for the raffle. Congratulations to the raffle winners!
Purchasers were encouraged to try their garments on, so any problems could be rectified there and then.
Thank you very much to our brilliant volunteers who helped transform the hall, and tidy away after the event. Thank you too to our fabulous volunteers staffing the small bar: ladies, you kept them busy! Thank you to Vici Hilditch-Green for organising this event; what a great start to the year!
We are delighted to announce that this event raised over £600.00! What a fantastic start to our fundraising year.


You may have spotted our refreshment stall at various events, most recently at the sports days. These are one of the small ongoing ways that we generate funding for the school. If you have bought from one of these over the year, thank you. Many thanks too, to the volunteers who run these stalls and keep us refreshed.
We hope that the new reception starters who visited this week had a lovely time and enjoyed their welcome cupcake, with Higher Lane design, made for us by Quirky Notions.
Leavers' Party tickets are selling fast! If you are year six and haven't got your ticket yet, be quick! Tuesday 14th July is the last day to buy them.
Next Friday, 17th July, is the last tuck shop of this school year. £1 for a drink and snack as a last day treat.
NOTE FOR NEXT SCHOOL YEAR Thursday 24th September we are holding a fashion show. The last one was a sell out event. Tickets will be on sale the first day back.
We have some great photos, including the Higher Lane cupcakes, on our Facebook page.
Sponsored Scoot - 8 and 9 June 2015
What great weather we had for the Sponsored Scoot! And what fantastic scooting! There was a great atmosphere for all the races with lots of supportive cheering, applause, and music. Congratulations to Miss Cheetham and Mr Dolan who won the teacher's races. We were very impressed by all the children who so adeptly managed the ramps and see-saw ramps. Well done all! Thank you to Scooters the Race who provided the equipment and thank you to the school for hosting the races. There are some photographs and videos of the event on the school Twitter account (@higher_lane) and our Facebook page (http://tinyurl.com/qhz4m7x).
We are delighted to announce that the final total for the sponsored scoot is an amazing £3000!! A huge thank you to all the kind sponsors of our talented scooter riders; you have enabled the purchase of picnic benches for both playgrounds. Don't worry if you haven't returned your sponsor money yet; please bring it in as soon as possible and it will go towards funding some more great extras for the children.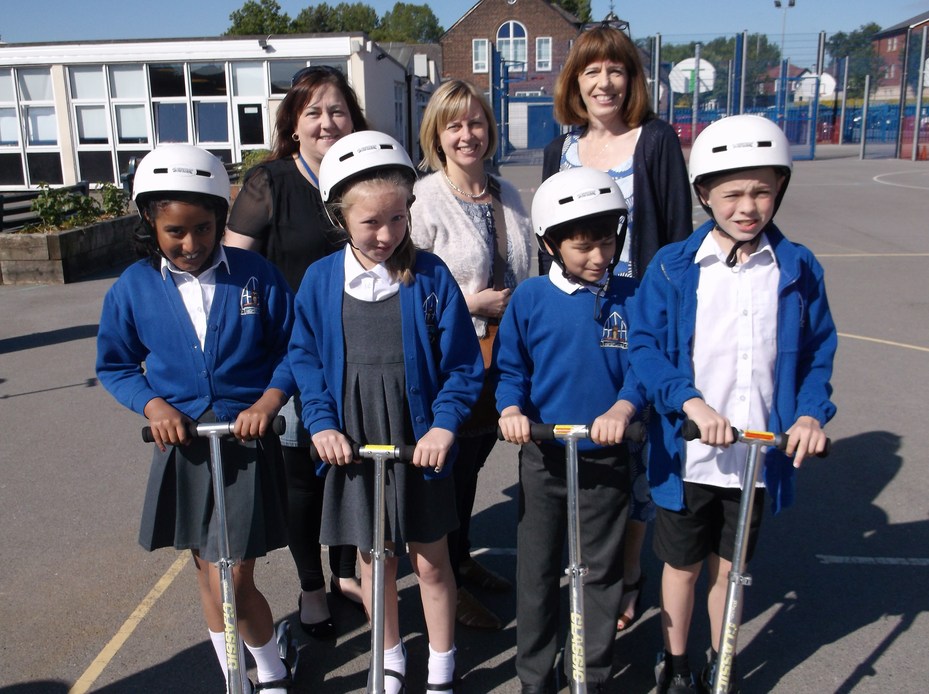 Friends of Higher Lane Coffee Morning - Friday 13 March 2015
Well the weather might have been grim, but there was a warm welcome for the parents and children who attended the coffee morning on Friday 13th March. Hot and cold drinks, and a variety of snacks were available for purchase. What a lovely way to start Friday off, a coffee and brioche in a friendly atmosphere. Thanks to all who helped organise it, and thank you to those who attended.
The next coffee morning will be next term, the date to be confirmed nearer the time; hope to see you then!
Family Fun Night - Friday 6 February 2015
The annual Family Fun Night is a popular event; a fun evening out for all the family. Each year is slightly different, but all of them include hot food, an affordable licensed 'bar', family games, a raffle, quizzes, and a DJ.
Although the primary focus of the PTA is raising money for the school, it is also important to us to run an event that isn't about the profit, but about people. About families. About you.
This year's Family Fun Night was held at school on Friday 6th February. As you can see from the photos, it was busy! Thanks all for coming, it was a really great evening. Hope you had fun.
A huge thank you to those who donated or organised raffle prizes; a few special mentions: Suzanne Anderson for all her hard work arranging the vouchers and other raffle prizes; Christian Campbell of CK Appliances, and Treasure City Chinese Takeaway for their generous donations of raffle prizes.
A huge thank you as well to those who helped organise and co-ordinate this event. We couldn't do it without you!