Our News
2018 - 2019
February 2019 We sent messages to the European Space Agency!
Our Code Club team are leading the way with their coding skills; they have learned how to write messages in code using the Python programming language and sent them on to the astronauts on the European Space Station, to be played on their Astro Pi computer! This is ground-breaking work and we are so pleased of them. Our Y5 pupils are also taking part in this very exciting project and once their messages have been relayed, they will receive certificates and maps showing where the space station was at the moment they were viewed! We have also received some very encouraging retweets from the ESA and Code Club North West to wish us good luck! A super well done to you all.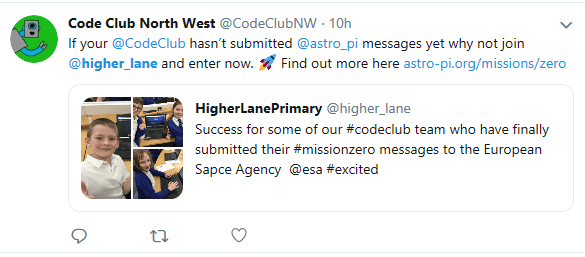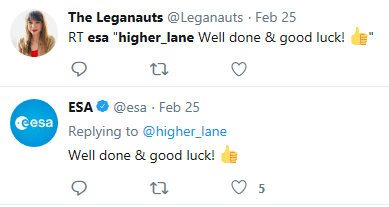 January 2019 We hosted a Purple Mash 'Mash Meet'
A big thank you goes out to Andrew and Deb from Purple Mash who came along to lead our first Mash Meet. It was a very informative and interesting session and the schools who attended really enjoyed it and found it really helpful in supporting them to move their computing curriculum on.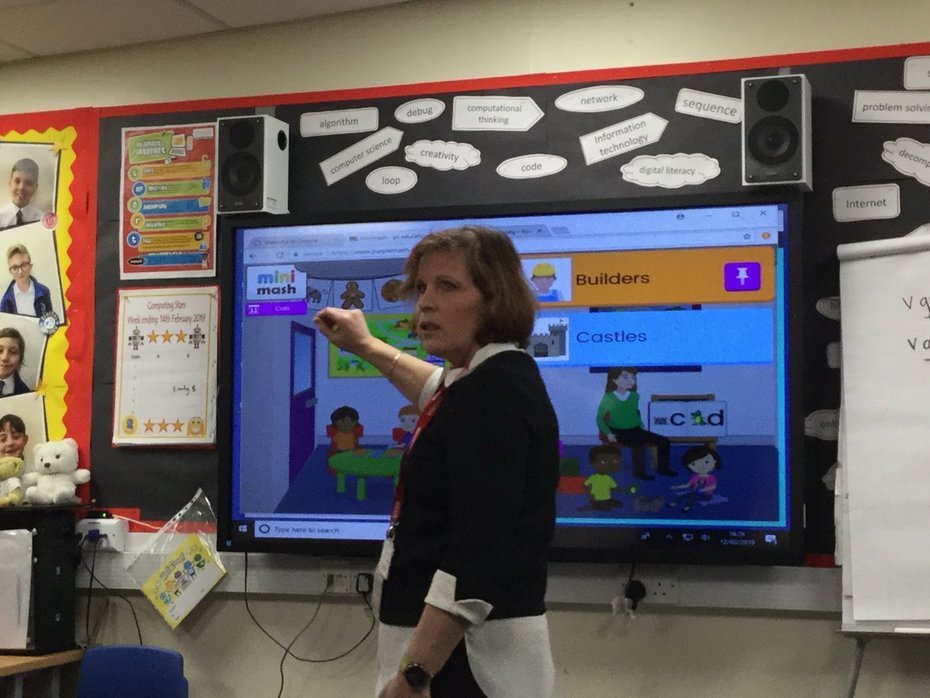 December 2018 Registered with the UK Safer Internet Centre
We are very excited to be a registered supporter of this year's Safer Internet Day event - in readiness for the 5th February 2019, with the UK Safer Internet Centre. Lots of events and learning are planned - details to follow in January. Please click the image for more information about Safer Internet Day.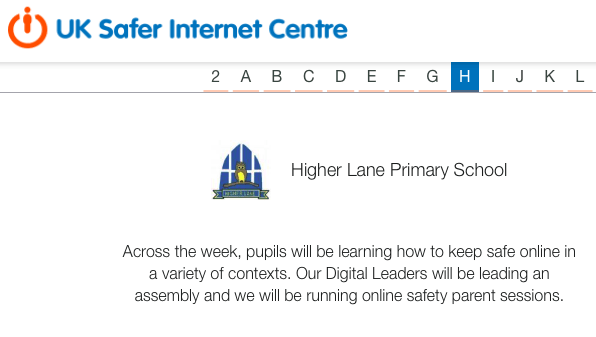 Dec 2018 Top 10% with computational thinking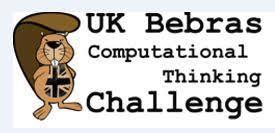 We are extremely pleased to announce that one of our Code Club members and Y6 pupils came in the top 10% of entrants in her age group in the 2018 UK BEBRAS Computational Thinking Challenge. She has also been invited to take part in another code challenge in March with Hertford University! Watch this space... Well done!
2017 - 2018
April 2017
Digital School Awards
We are very pleased to have received an award for student engagement with e-Safety from Parent Zone. They were very impressed by how online safety is embedded across the curriculum at Higher Lane, and at the range of methods we use to engage students.
March 2017
Most Improved School in UK
Higher Lane Primary School is among most improved in UK

11 November 2016
Armistice Day
Today in our assemblies we observed the 2 minute silence at 11.00am, and remembered all the servicemen and women that have given their lives for our freedom.
A group of children represented us at a service held this morning at the Fusiliers Museum in Bury.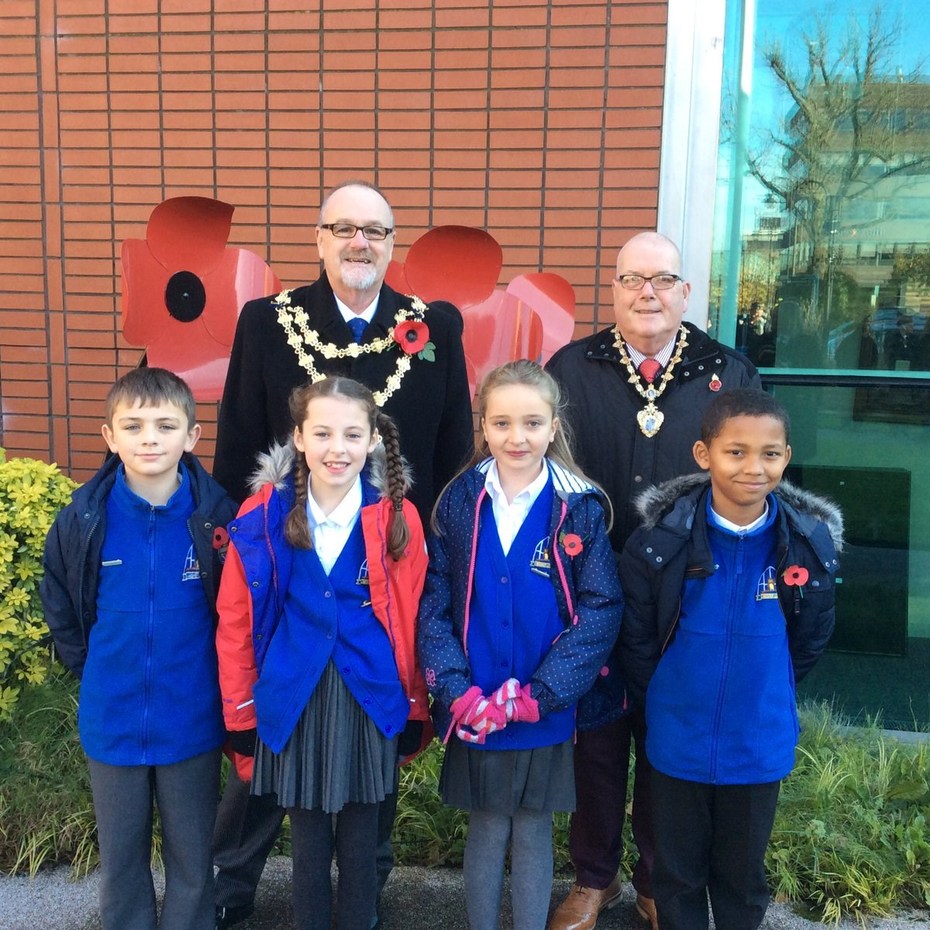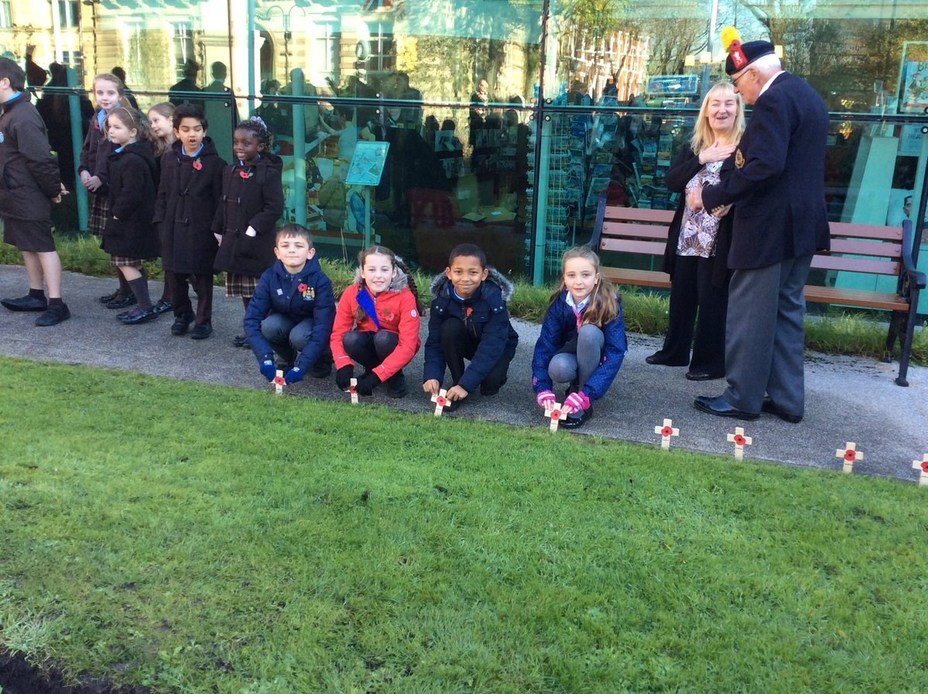 10 November 2016
Bury in Bloom Winners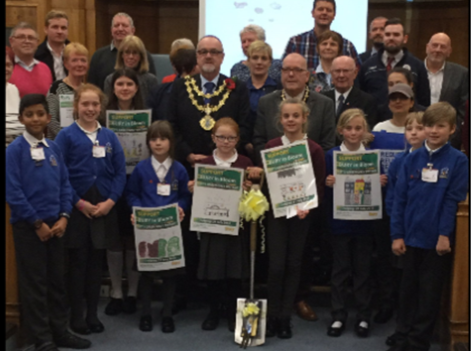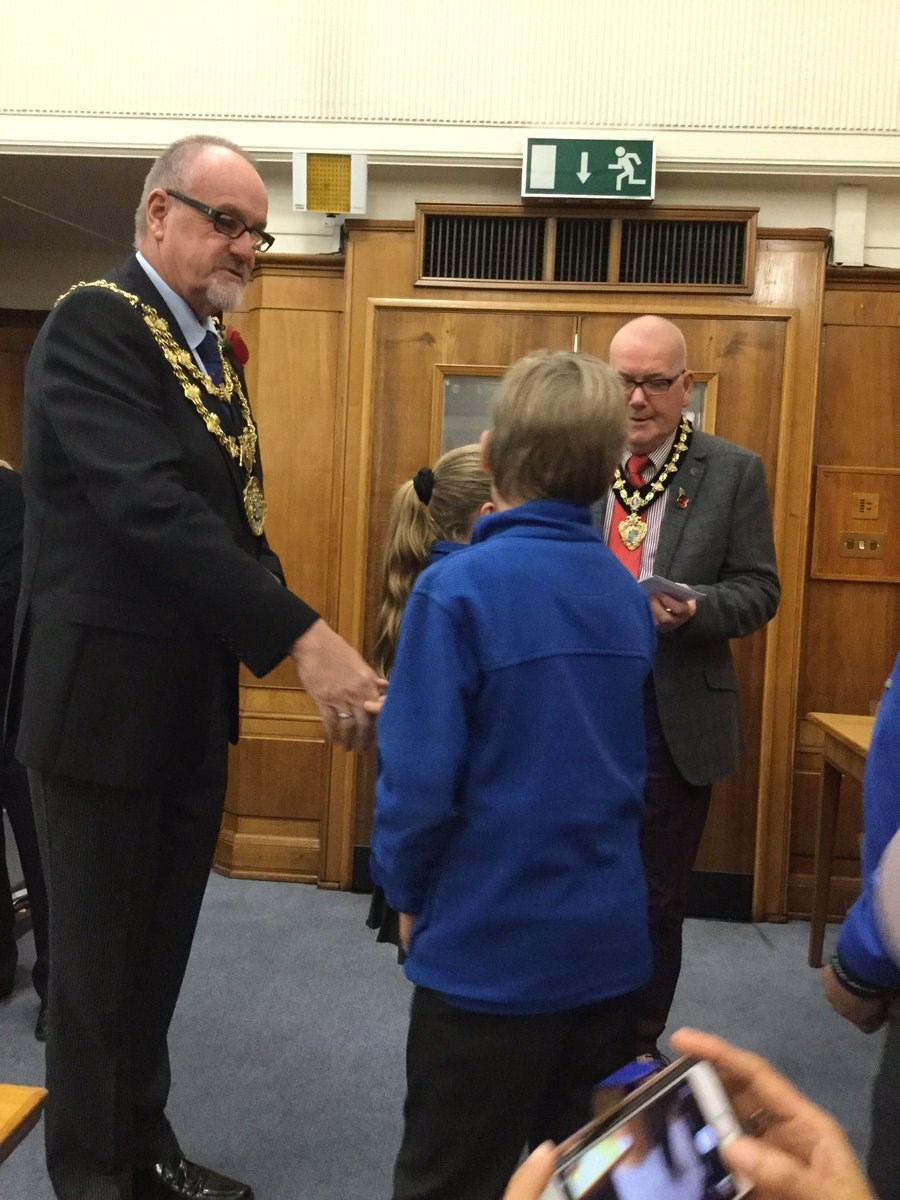 We were very proud to attend the Mayor's Chambers this week to receive a number of awards from the Bury in Bloom Annual Competition. We were delighted to win the "Best School Environmental Garden" with our wonderful grow your own and wildlife garden.
Our head boy and girl and deputies collected the award on behalf of our school.
We received a certificate and some vouchers for Summerseat Garden Centre which we will be able to spend on the garden.
A big well done also to Lilia Leitch and Lilith Taylor for winning the Design a Poster Competition.
23 September 2016
Warburtons Drop into Year 1
A big thank you to Warburtons who visited year 1 this week. They made healthy sandwiches with the children which linked in with their science topic and also enhanced their English curriculum.
The children found the visit very interesting and we look forward to welcoming them back again soon.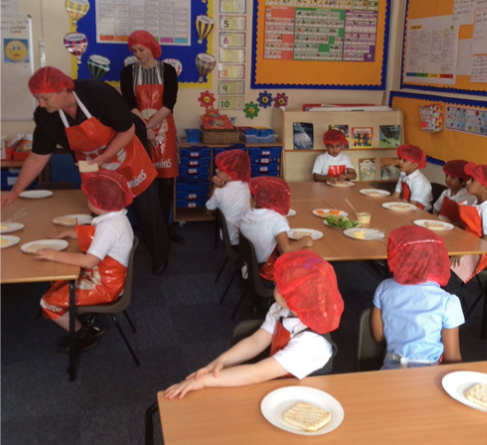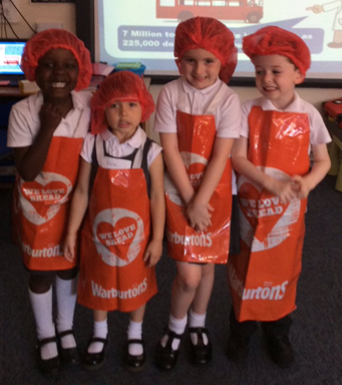 2015 - 2016
Saturday 7 May 2016
Prestwich and Whitefield Schools' Cross Country Championships
On a beautiful summer morning at Heaton Park, our cross country team were busy producing some fantastic performances. Freya Potts in the girls' race had an outstanding run, winning for the second year running. There was no one in sight when she finished! She was well backed up by her team mates, with Summer Whitfield coming forth The girls team came a great second.
The boys performed brilliantly too coming forth overall in the boys.
Well done to our teams!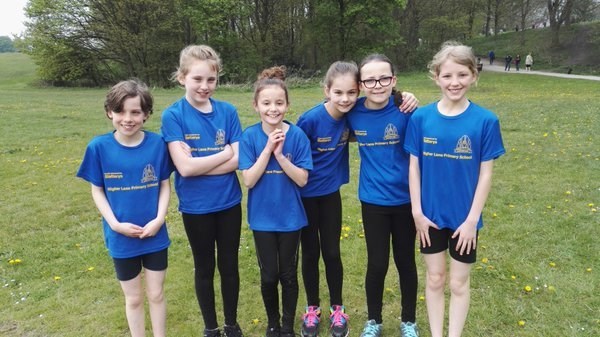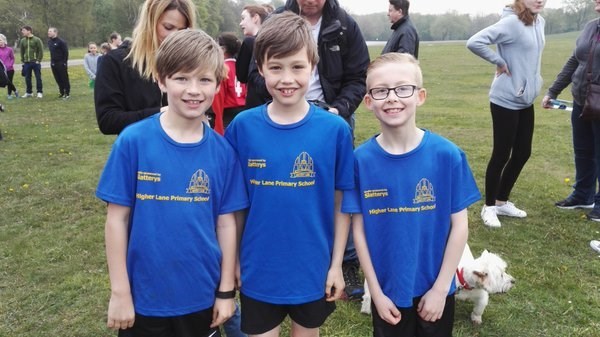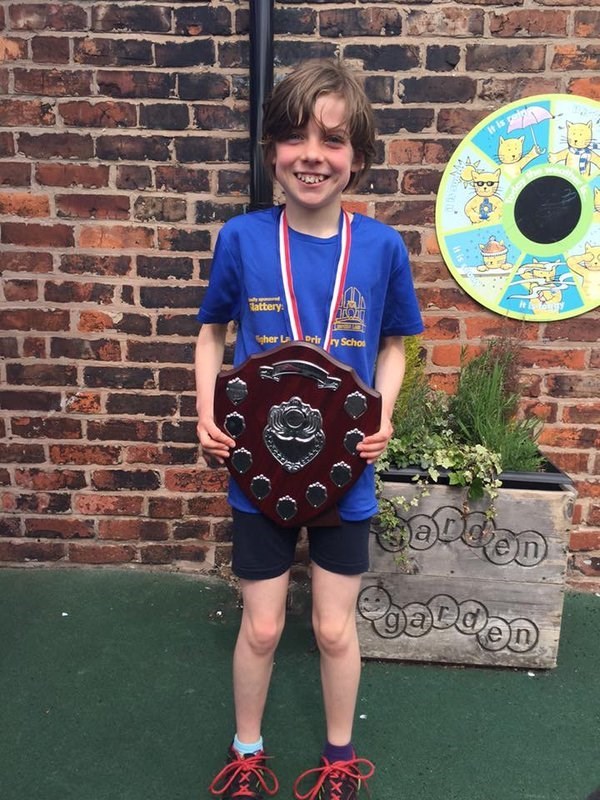 Thursday 21 April 2016
PTA Success with Big Lottery Funding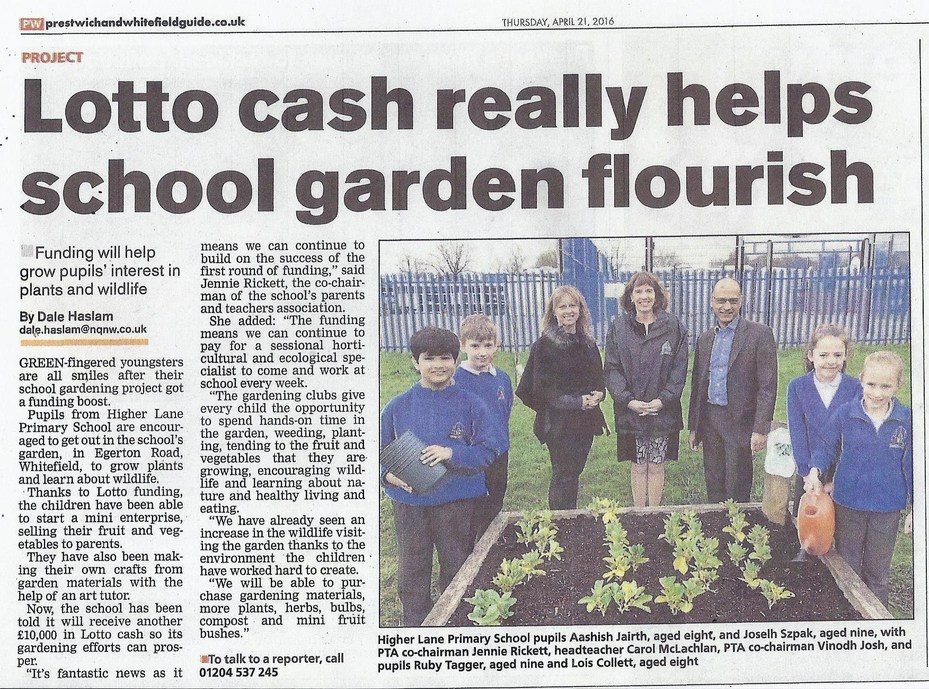 Tuesday 8 March 2016
Congratulations to our Basketball Team
A big well done to our basketball team who came third in the Bury Finals this week at Philips High School. It was very close and they just missed out on the final by one point.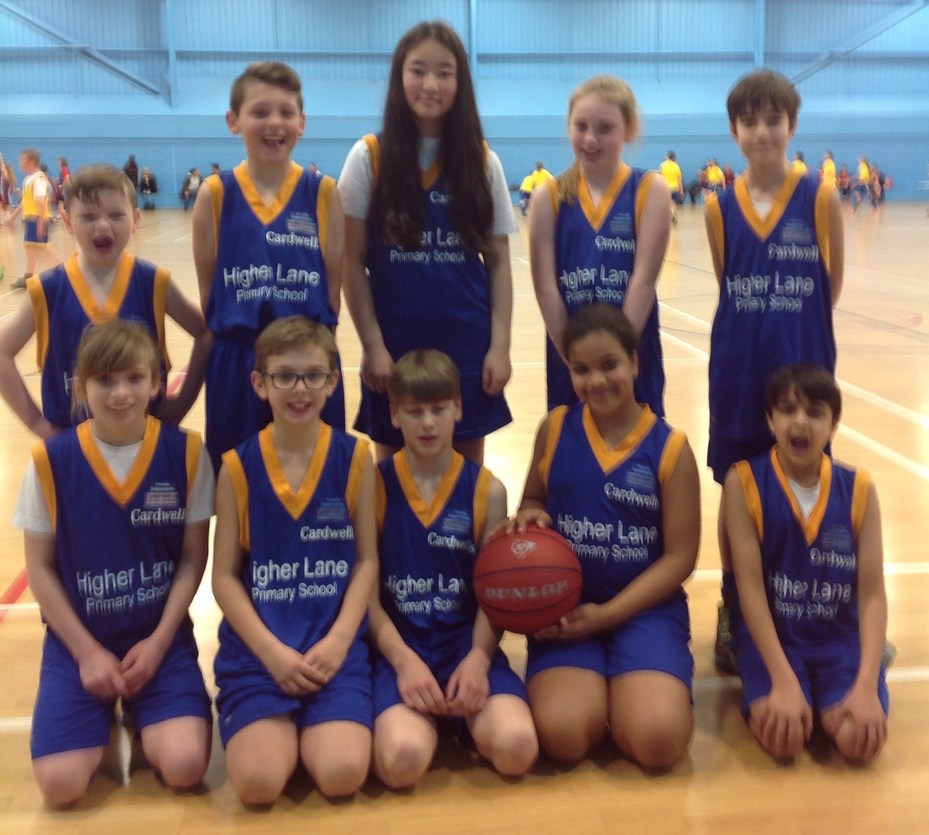 January 2016
Grow Your Own Update
We are pleased to report that all is going well in our grow your own garden. The children have been very busy on some important long-term planting work of both spring flowering bulbs, fruit trees, bushes and native hedging. Please click here for our horticultural and ecological specialist teacher's late winter update.
The recent purchase of waterproofs to keep the children clean and dry whilst working in the garden has proved a worthwhile investment.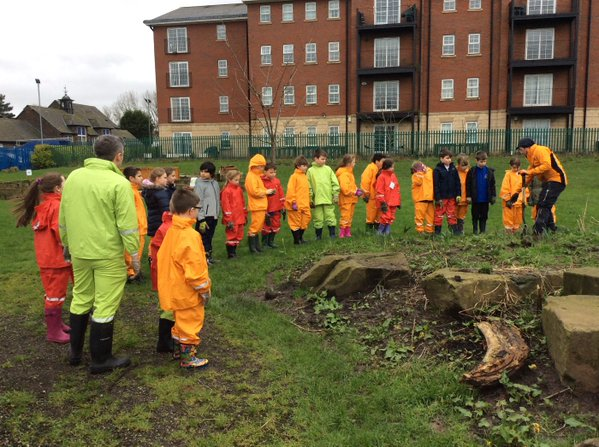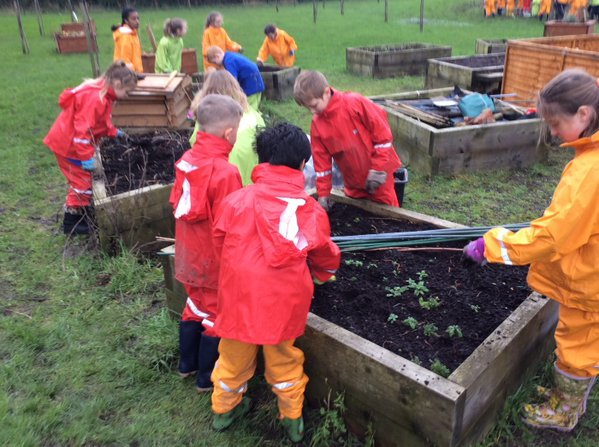 25 November 2015
Winners of the 2015 Prestwich and Whitefield Basketball Tournament
A huge congratulations to our year 6 mixed basketball team who convincingly won the Prestwich and Whitefield Basketball Tournament at Philips High School. On their way to winning they did not lose a single game. Well done!
22 October 2015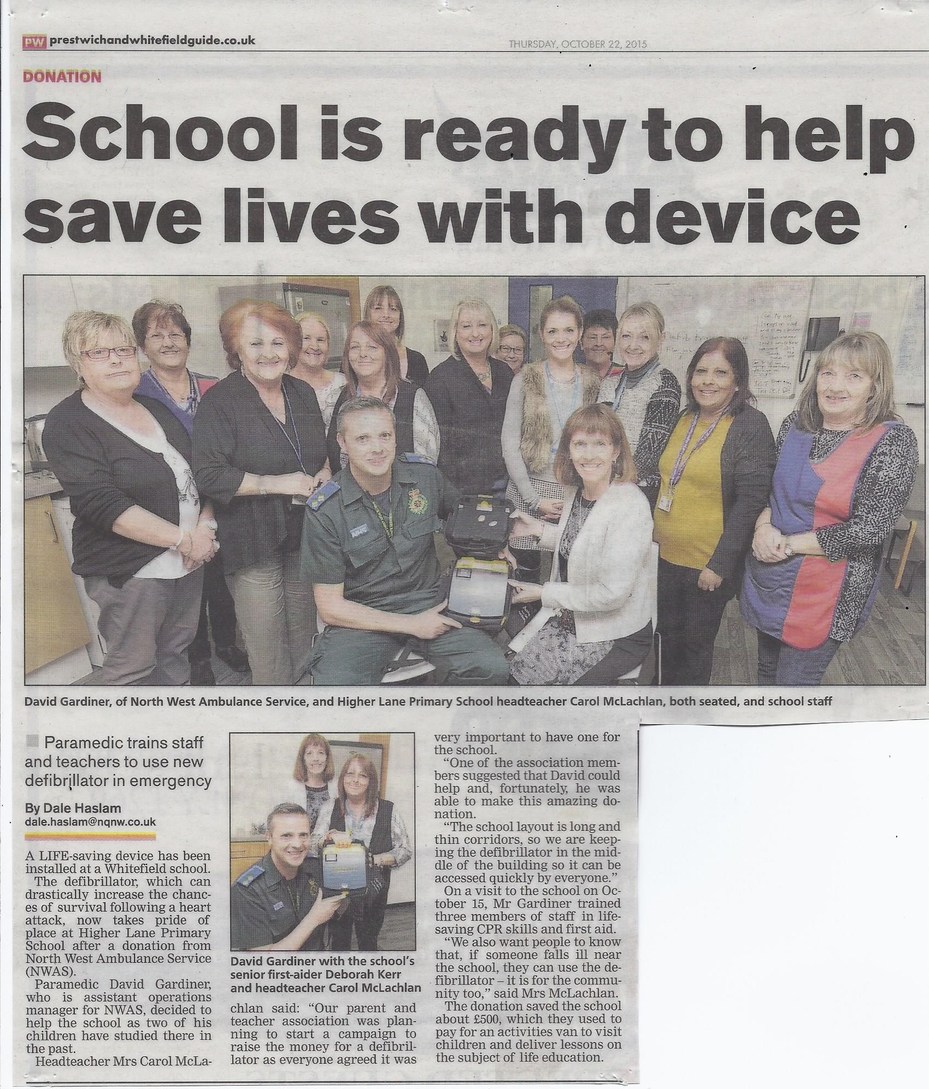 2014 - 2015
June 2015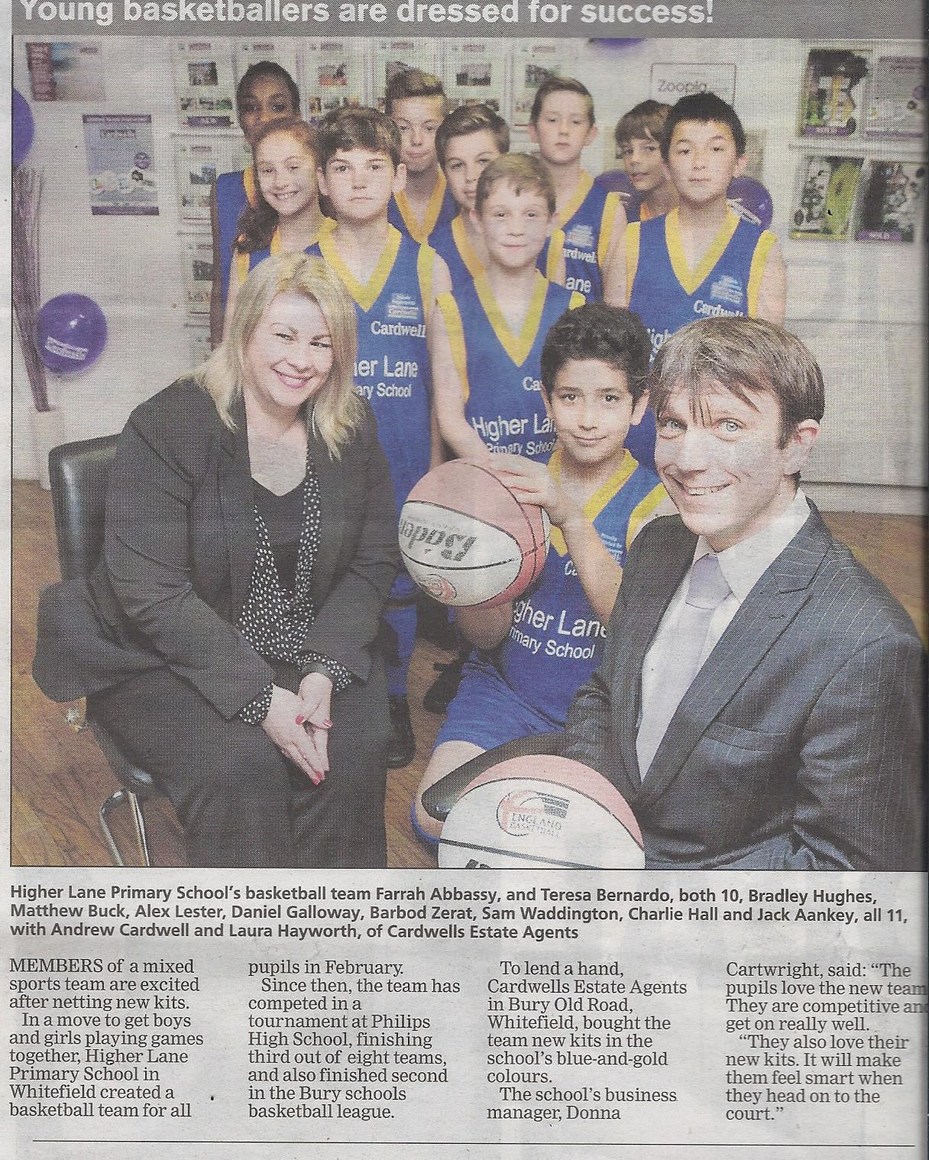 8 and 9 June 2015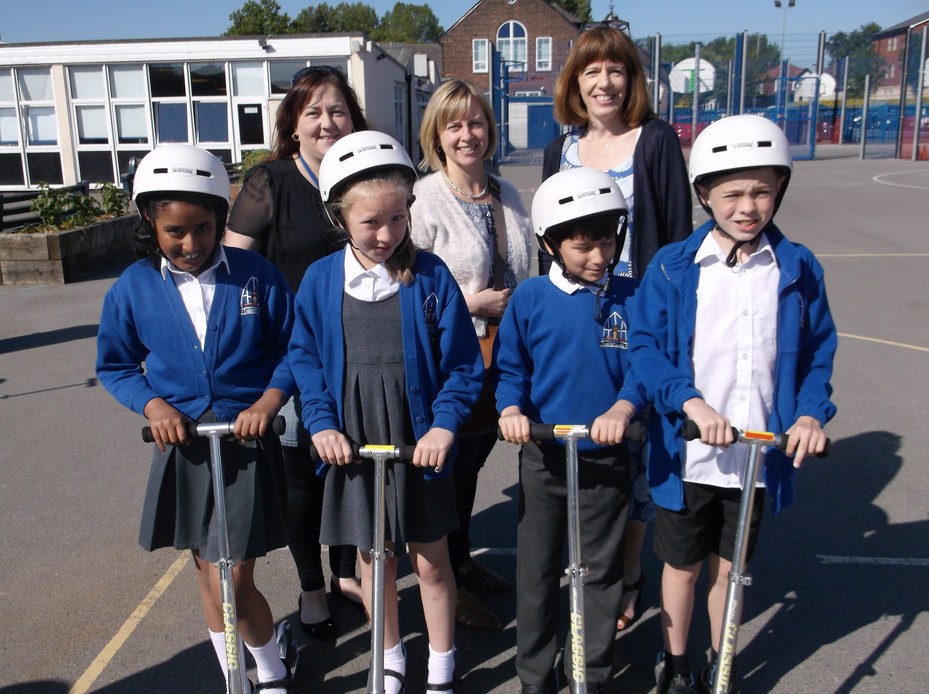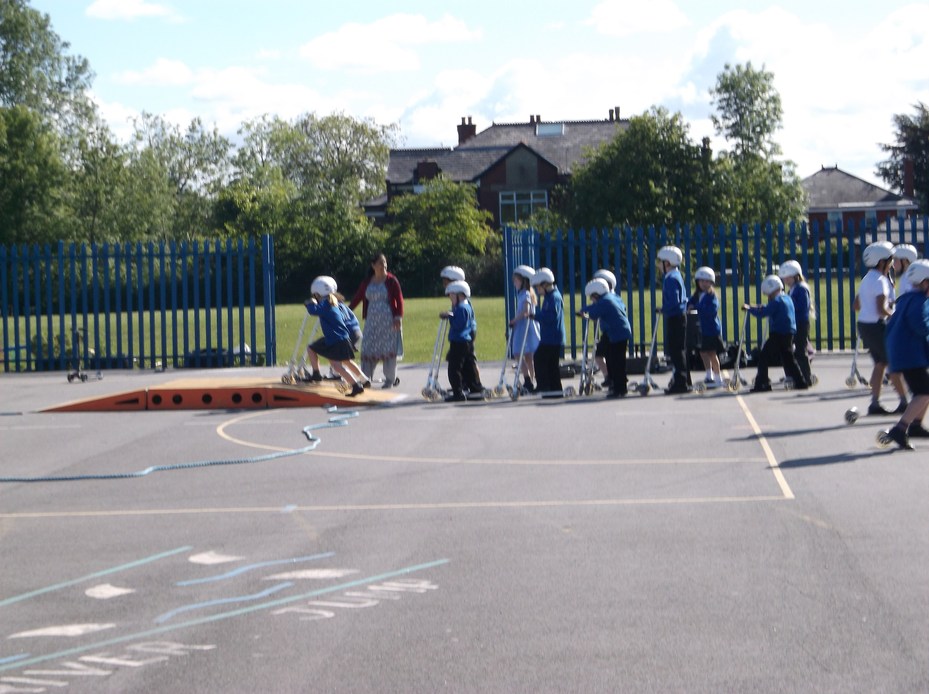 The sponsored scooter event this week, organised by the PTA, was a great success with all the children having a great time. Every class took part and we were very lucky with the lovely weather. Some teachers even had a go too! Once the PTA have worked out the grand total raised, we will let you know in our newsletter.
2 March 2015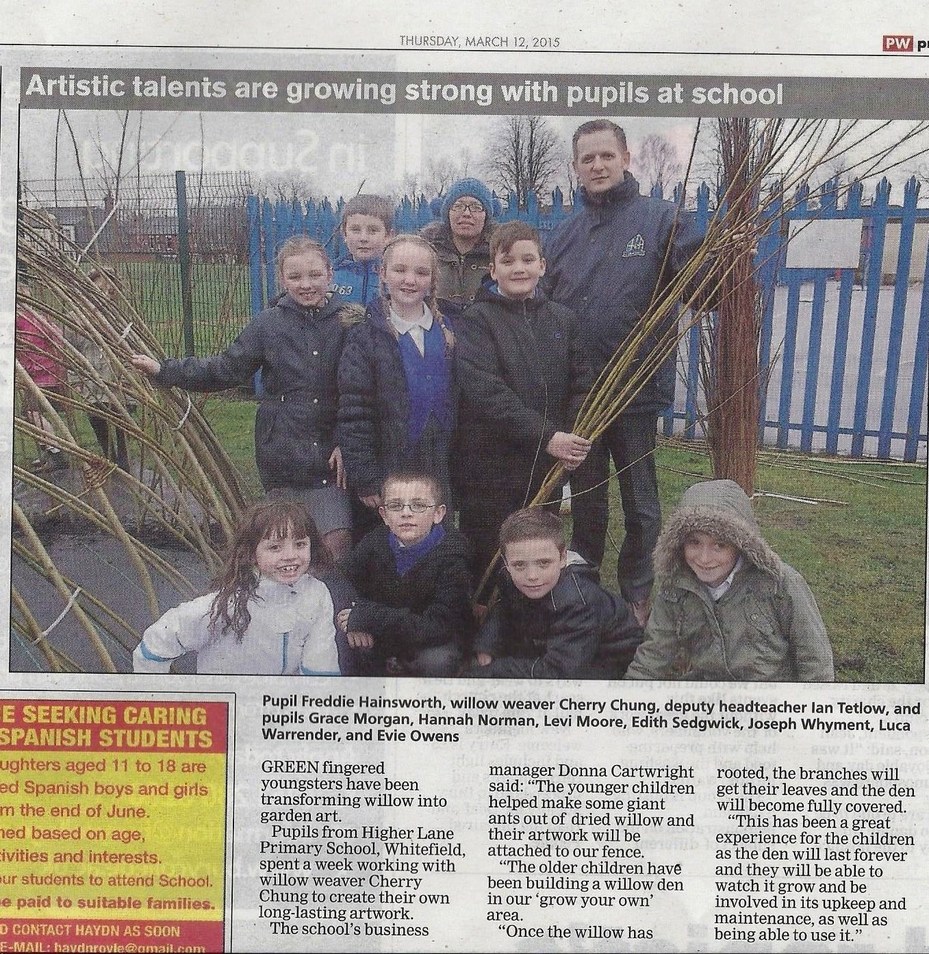 February 2015
27 February 2015
Well done to our sports' teams that have played this week and done extremely well. Our year 6 football team won their match against Mersey Drive 3 - 2. Our mixed year 6 basketball team have also been in action, and after narrowly missing out on the final of the basketball tournament at Phillips High School, came a great 3rd place. Well done to everyone!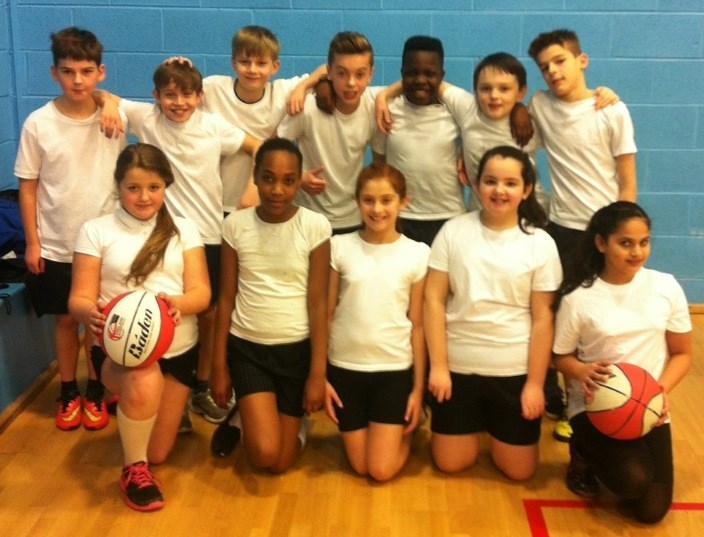 A photo of the basketball team before the event
January 2015
19 January 2015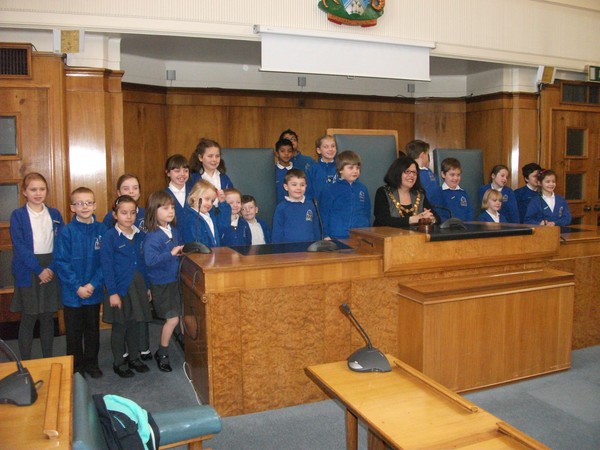 Visit to the Mayor's Parlour
This week Mrs Switzer organised for the School Council to visit the Mayor's Parlour. The two representatives from each class took the public bus to Bury Town Hall. The children went into the Council Chambers and eagerly awaited the arrival of the Mayor, Councillor Wiseman. She gave the children a brief presentation on her role and then the children had the opportunity of asking her many questions. Following that she gave the children a tour of her parlour and explained the history of many of the artefacts in there. On leaving she presented the children with either a bookmark or a pencil. Thank you to the Mayor for making us all feel very welcome and a special thank you for the drinks and biscuits.
Message from Cllr Michelle Wiseman, Mayor
I was very pleased that pupils and members of staff from Higher Lane Primary School were able to join me in the Parlour yesterday and thank you, most sincerely, for the time I was able to spend with you all.
I very much enjoyed meeting with the children and staff and trust that the children also enjoyed their visit.
Thank you, once again, for your visit to the Parlour. I would be glad to visit your School during my term of office.
Ofsted
After a successful Ofsted inspection in November 2014, we were pleased to feature, below, in the Prestwich and Whitefield Guide.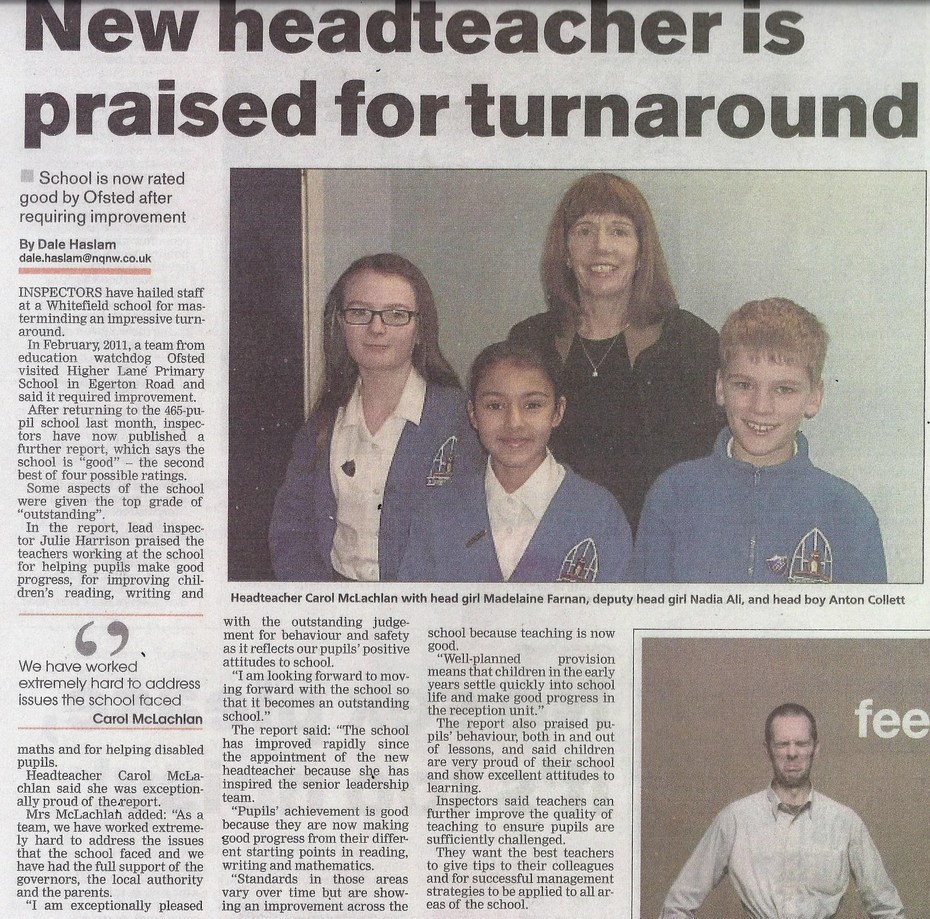 November 2014
Football Kit Sponsorship
Camilla Carpets Based in Elms Square, Whitefield have very kindly sponsored our new school football strip. We took the team down to the shop to thank the managers personally and have a photograph. We are very grateful to the Camilla Carpets, and we think the kits looks great!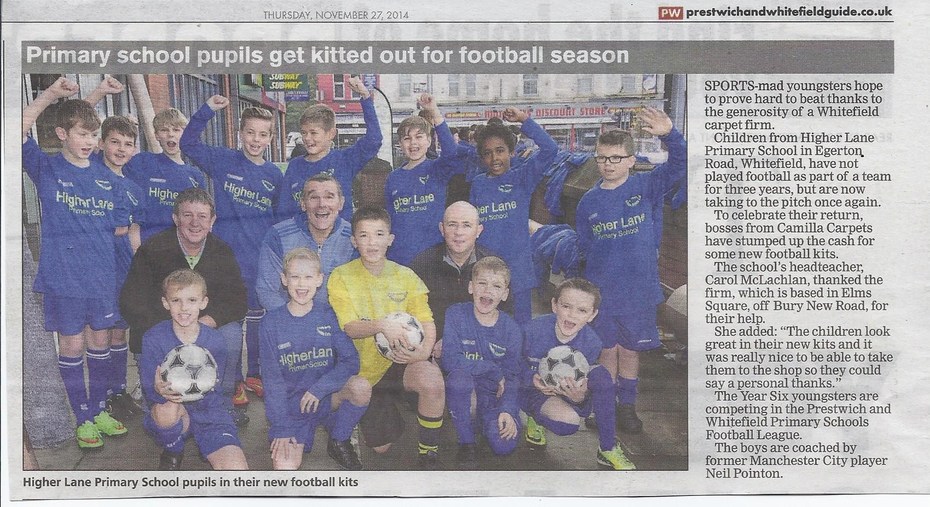 October 2014
Partnership working with Bury Children's Services
Bulb Planting
Higher Lane have been working with Children's Services to plant bulbs in the school grounds. Children's Services were planting a daffodil bulb for every child that is in care or being looked after in Bury which is approximately 350 children. Newbank Garden Centre donated the bulbs and the children from the Eco Council worked with the school gardener, Mr Mullen and staff from Children's Services to plant the bulbs in Higher Lane Grounds. We look forward to the daffodils in spring.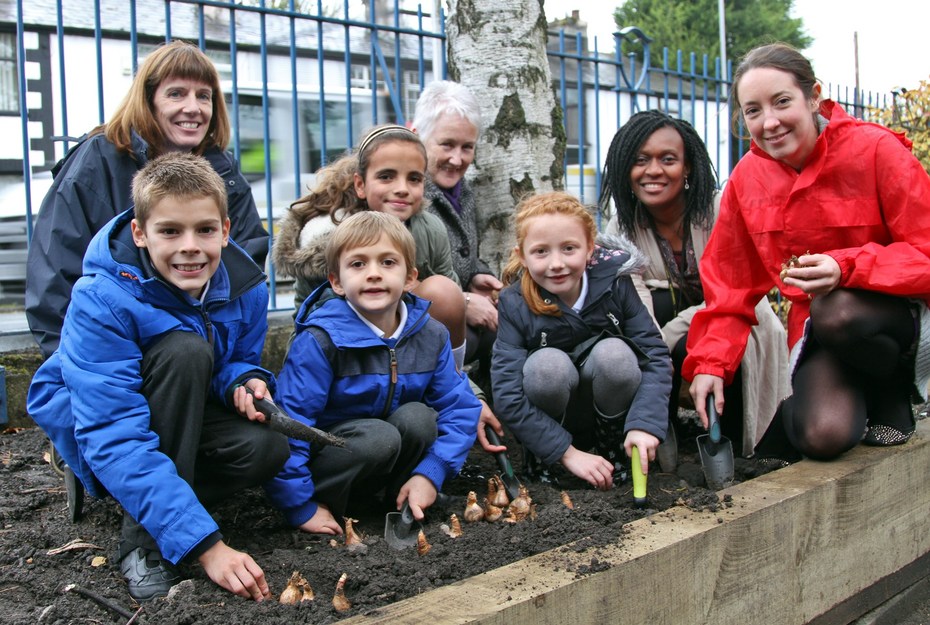 Donations to Porch
PORCH were very grateful for the donation of food items that we collected for our harvest project.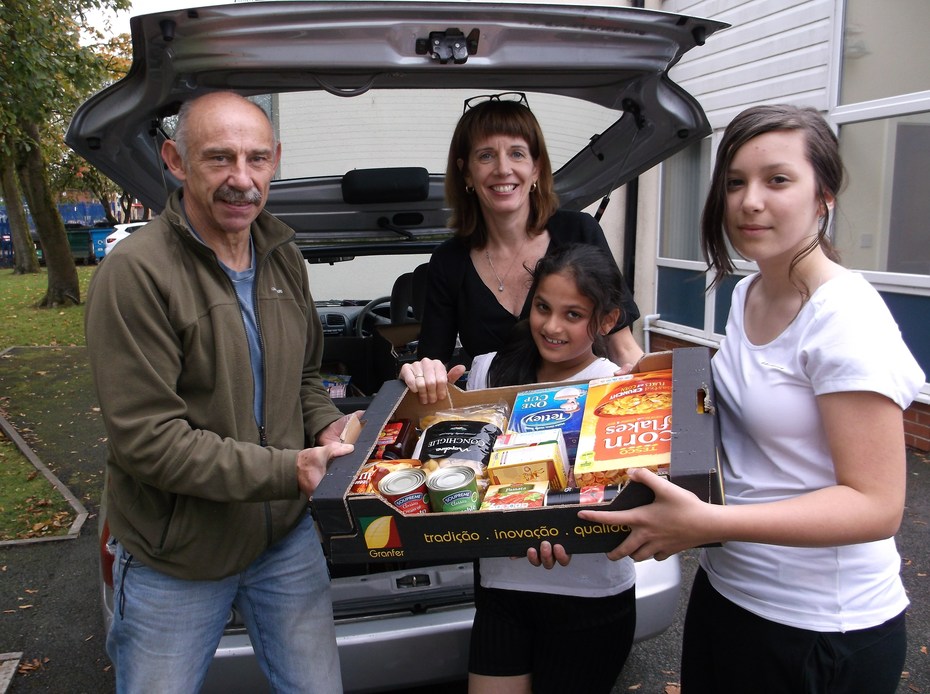 September 2014
Welcome Back September 2014
Welcome back to all children and a special welcome to those children who are new to Higher Lane Primary School. Continue reading.
ACADEMIC YEAR 2013 - 2014
17 July 2014
Our Year 6 Leavers' Prom was a huge success and all the children had a great time. Have a look at our slideshow below.
July 2014
Running kits sponsored by Slatterys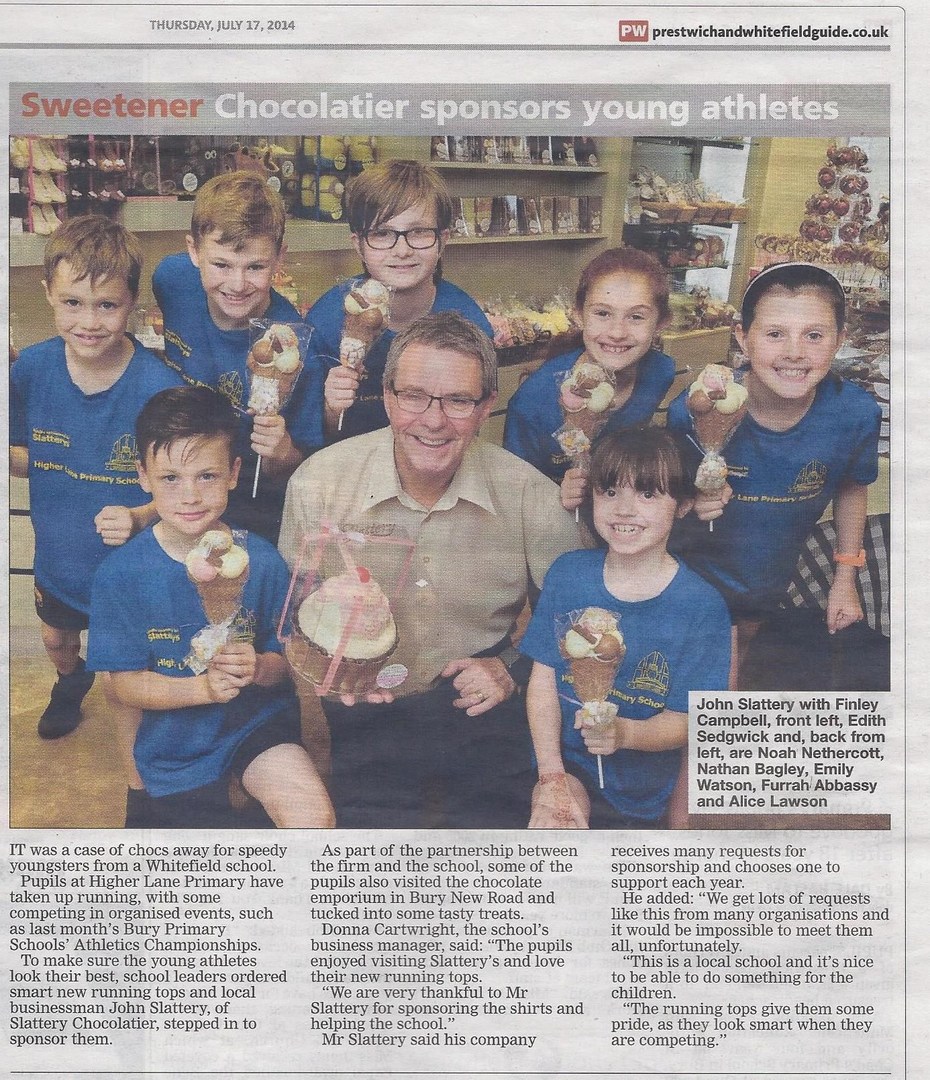 Reception have had a number of visitors in school recently. Click here to see who.
There's lots of good things going on at our school and we hope to share this with you here on our News Page.
This term the children have been working with a sport's coach to develop their PE skills during their PE lesson. This week children in year four had a mini sports day to practise and apply their PE skills. Next term, hopefully weather permitting, the children will be doing the majority of their PE outside. Please ensure your child has a water bottle and a full PE kit.
25 March 2014
The opening of our new KS1 playground
13 March 2014
Our Special Visitors
Higher Lane Primary School had a visit from the Leader of the Council, Councillor Mike Connolly and Chief Executive Mike Kelly to meet the staff and children. They were taken on a tour of the school by our deputy head boy and girl and the head boy and girl and they were full of praise for them, saying they had exemplary manners and were great ambassadors for the school. They said they thoroughly enjoyed their visit which was over seen by the headteacher Ms Carol McLachlan. Ms McLachlan said that it was lovely to have them in the school and the children and staff really enjoyed them dropping in.
Councillor Mike Connolly, Leader of the Council has included us on his blog.
Leader of the Council's Blog March 2014